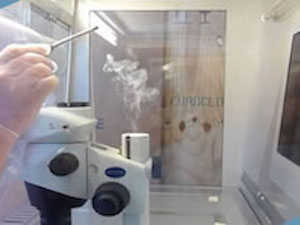 EuroClone's R&D consists of specialists with many years' experience in the field of laminar flow, contamination containment and laboratory equipment.
The R&D group activity concentrates on the development of new laboratory equipment solutions and custom made industrial equipment.
Specialists and engineers work together exchanging their experiences and know-how, allowing EuroClone to offer its expertise to customers who need to solve specific problems in the industrial sector, and also to manufacture innovative and high quality standard products.
It is the know-how of the highly skilled R&D team that has enabled EuroClone to engineer and manufacture entirely in house the SafeGrow 188 CO
2
incubator, a product that combines state of the art cell culturing technology with Italian design
Other recent examples of the R&D synergies at work are the development of the Embryosafe series of IVF dedicated workstations, which combine accurate thermostatic technology and microscopy within a class II microbiological safety cabinet; and the engineering of a unique and innovative stem cell culture isolator, Isocell Pro, that allows CO2 culturing, manipulation and microscope examination of cells.
---